Colour effect glass for art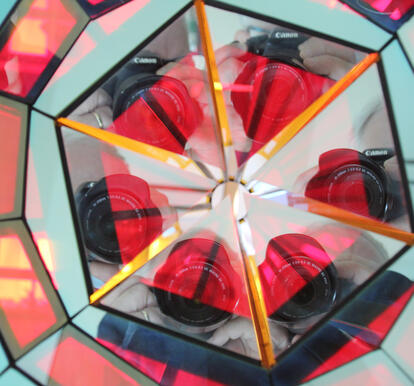 Jesse Magee: Traps I - IV
What colour effect glass has to offer art
Glass art has a new design material in the form of colour effect glass: this is a glass that appears clear at first glance, but appears brilliantly coloured when the viewing angle changes.
Application and processing
Colour effect glass panes are available in thicknesses from 1 to 6 mm and in dimensions up to 5.80 x 2.55 m in butt joints, or max. 1.08 x 0.8 m as a single pane. The coating can be applied to float glass or borosilicate glass. For exterior use, we manufacture the panes as triple-laminated safety glass (LSG); for interior use also as double-laminated LSG. Colour effect coatings on curved panes or glass bodies (tubes) are possible as well. Coated glass can also be embedded as an inlay in laminated glass. Further information on materials and processing:
Success story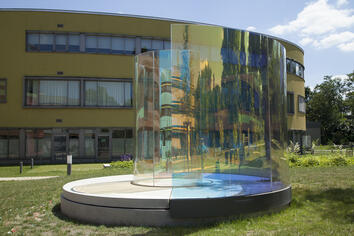 Inga Danysz: "Colour Fields"
Exemplary for the consulting and service offered by Prinz Optics is the cooperation with the young artist Inga Danysz, born in Warsaw in 1990, in the realisation of her walk-in colour effect glass sculpture "Color Fields". The project was a highly complex task: the artist wanted large, curved panes of our transparent and at the same time colour-reflecting dichroic glass for her sculpture in front of the new "Johanna Quandt Centre" of the Frankfurt University Hospital.
Our unique glass for art and "percent for art"
Colour effect glass has the ability to generate vibrant colours from white light. The resulting colours and colour gradients change with the change of light beam trajectories and the movement of the viewer. This glass is an inspiring design material for sculptural glass art that is particularly suitable for "percent for art" properties thanks to its weather resistance attributes. Where architectural design is to be supported by appropriate colouring, dichroic glass not only meets all aesthetic requirements but also all safety and durability requirements.
The dichroic colour effect depends on the lighting. In daylight, there is an effective overlapping of the colours from the reflective effect and the transmission effect. At night, colour perception depends on the position of the light source and the viewer. If both are in front of the filter glass, the reflective effect (and the corresponding colour or colours) dominates. If the viewer is on one side of the filter and the light source on the other, the transmission effect (transparency – and the corresponding colour or colours) dominates. Colour gradients that are always composed of subtractive colours are also possible. With our range of more than 20 different colour effects, all colours of the visible spectrum can be shown. On request, we can also create further colour variations and different colour gradients. The colour range of the gradients, and their length, can be selected here as well. 

We will be happy to provide you with glass samples appropriate for your project.