Colour effect glass
Our dichroic (from the Greek "dichroos", meaning two-tone) colour effect glass inspires architects, designers and artists to come up with creative designs.
Dichroic glass is unique
The transparent, ultra-thin coated glass creates colour without using absorbing pigments. It allows light to pass through almost without restriction and yet, depending on the angle of radiation and the viewing angle, can shine in brilliant colours.
We offer glass in a wide range of colour variations.
The various coatings can be applied to safety glass as well as curved or spherical glass surfaces.
Areas of application
Endless possibilities for combining the functionality of glass with colour aesthetics: Glass that is clear at first glance appears in brilliant colours when the viewing angle changes. Can be used as single-pane glass, double-pane or triple-pane laminated glass or safety glass.
Success Story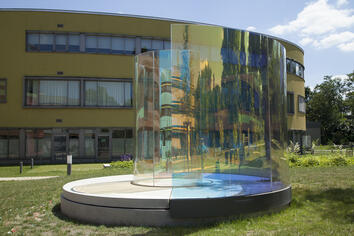 Inga Danysz: "Colour Fields"
The cooperation between the young artist Inga Danysz, born in Warsaw in 1990, and Prinz Optics in creating the walk-through sculpture of colour effect glass "Color Fields" is paradigmatic for the company's service and support centre.  The project was an extremely complex task: for her sculpture at the new "Johanna-Quandt-Zentrum" at Frankfurt's university hospital, the artist wanted large, curved glass panes from our transparent and yet at the same time colourful, reflective dichroic glass.
Colour table / white paper