Our realisation consultation service
As a customer-focused manufacturer, we are here to support with advice and measures that will help bring your projects to life.
Thanks to our expertise and technical resources such as laboratory and measuring equipment, we can offer you cooperation in the execution of your projects and product innovations.
On which topic or issue would you like some advice?
Our consulting service for optical filters
The extent of our experience in the fields of light influencing and design corresponds to the scope of our product range.
Our knowledge as well as our individual production offers are at your disposal for the execution of your projects. We offer consulting to buyers, technicians and engineers and, where appropriate, partnership-based cooperation when it comes to optimum problem solutions.
Take advantage of our know-how, especially when it comes to:
calculating coatings;
measuring third-party filters;
measuring lighting, and;
carrying out photometric characterisations.
Success Story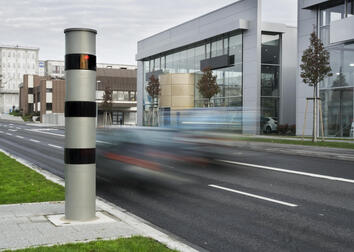 With automatic traffic surveillance, license plates are photographed from a mirror image. PRINZ OPTICS has developed a mirror that reflects only a defined wavelength range and thus prevents unclear ghost images.
Consultation for the realisation of colour effect glass projects
The colour effects of dichroic glass are fascinating and the possibilities of its use diverse (see also our references). Take advantage of our partnership-based consulting services to implement your ideas.
You are also welcome to request our sample set in advance for a first impression and pre-selection.
We support visual artists, architects and designers with our practical knowledge as well as with advice and support in:
the technical implementation of design ideas;
finding the right expert for particular challenges in project execution, and;
fulfilling special requests.
Success Story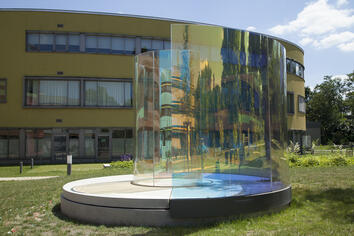 Inga Danysz: "Colour Fields"
The cooperation between the young artist Inga Danysz, born in Warsaw in 1990, and Prinz Optics in creating the walk-through sculpture of colour effect glass "Color Fields" is paradigmatic for the company's service and support centre.  The project was an extremely complex task: for her sculpture at the new "Johanna-Quandt-Zentrum" at Frankfurt's university hospital, the artist wanted large, curved glass panes from our transparent and yet at the same time colourful, reflective dichroic glass.