Optical filters for the illumination of products and exhibits
Good quality deserves the best light. And not every light is the "right light" for showcasing your range of goods. Prinz Optics offers the right selection of conversion filters for product lighting that gets people's appetites going, increases the desire to buy at the point of sale or at the trade fair stand and enhances the enjoyment of art at an exhibition.
Float glass, Borofloat, clear glass and glass ceramic are the substrates that we coat – in varying thicknesses – using the sol-gel method. Highly homogeneous and ultra-thin layers can be achieved with this dip coating technique. The filters produced as a result are insensitive to heat and UV rays and also do not age.
We manufacture our filters in different sizes and in round and square shapes as well as in custom shapes on request. Be sure to take advantage of our consulting service as well.
Our standard conversion filters for the presentation of products/objects
Prinz Optics offers the right filters for optimising lighting in stores or directly at a goods display – and also at exhibitions and trade fairs:
our FE Pink and FE Pink 500560 conversion filters are ideal for meat, sausages and fish. The M3-400 filter is ideal for bread, baked goods and cheese. For vegetables we recommend our FE Green-3 filter.
The KW100 or KW90 dichroic filters are mostly used for textiles / fashion / clothing / accessories. This filter is also used for the optimised, warm-toned presentation of exhibits in museums and at exhibitions.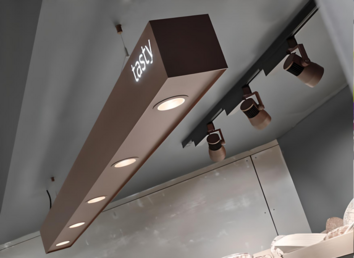 © Prolicht
Often, the classic light sources and LEDs do not have the colour spectrum for optimal illumination of food or textiles. In the worst case, the products look wrong.

Conversion filters from Prinz Optics help to put the goods in the right light. The company Prolicht from Austria uses these filters in its luminaires; this creates a complete package for the customer's lighting project.