Manufacture, areas of application and specifications
Everything you wanted to know about the features and specifications of our nanocoatings
Properties of the nano-coatings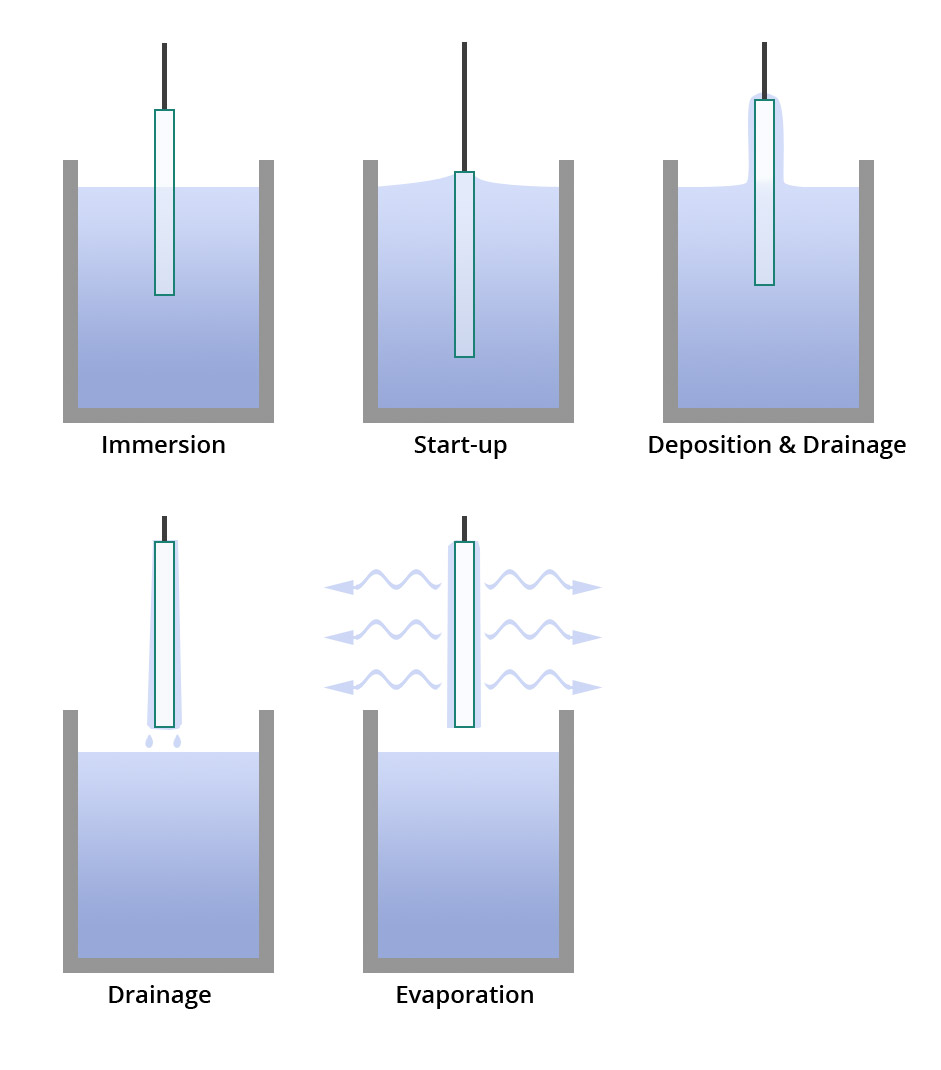 The coating process for dip coating (sol-gel coating)
Optical filters, colour effect glass and anti-reflection coatings
The durability of all coatings is – without mechanical or chemical exposure – unlimited. This is because the coatings are inorganic. They are produced using a dip coating process. The metallic alcohol-based coating solutions used in this process are converted in a thermal process at 480°C into bonded metallic oxide layers. Therefore they cannot be altered by heat or UV rays.
The coated glass is therefore highly resistant and durable. It can be further processed using virtually any common glass processing method.
Functional coatings
These organic-based filters, such as hydrophilic or hydrophobic coatings, do not last indefinitely. Please contact us for details.
Glass is dip-coated and cured at lower temperatures.
Metal is also dip-coated and cured.
Plastic can be dip-coated, but can also be coated using other processes. The coatings are dried if necessary.
What is a dichroic filter and what effect does it have?
Example of interference with a one-sided nanocoating. The more layers are applied (up to 20 are possible), the more intense the colour effects become.
Colour effect glass, lighting filters and filters for the presentation of goods are dichroic (from the Greek 'dichroos' = bicolour) filters. The technology allows virtually every colour of the spectrum to be generated, both the additive (red, green, blue) and the subtractive (yellow, magenta, cyan) colours.  This effect is based on the interference of light waves on thin, optically transparent layers, in the process of which white light is then refracted in colour.
 
The colours are the result of the superposition of light waves, which are reflected both on the surface of a corresponding layer and on its lower boundary. If two wave peaks are superimposed, the waves intensify (constructive interference). However, if a wave peak encounters a wave trough, the rays cancel each other out (destructive interference). This prevents the incident light from being absorbed and transformed into heat rays.
This is unlike the effect of traditional colour filters, which is based on the absorption of entire spectral ranges and can lead to strong heat build-up.
Customised Glass Cutting Service
We offer a software-optimised cutting service on our cutting unit, for both coated and uncoated glass. Perfect control technology guarantees the highest precision in circular and XY-cuts. Other shapes for cutting are also possible. 
Available to you in our warehouse for your cutting specifications:
| Uncoated |   |
| --- | --- |
| Ceramic glass | 3 mm and 4 mm |
| Clear glass | 3 mm and 4 mm |
| Borofloat glass | 1.1 mm up to 6,5 mm |
| Float glass | 2 mm up to 5 mm |
| Coated |   |
| --- | --- |
| Colour effect glass | all colours and thicknesses |
| Optical filters | all types and thicknesses |
| Functional coatings - on glass | all thicknesses |
| Anti-reflection coatings | all thicknesses |
For customised cutting of coated metal or plastic, please contact us.
Sizes of the filter glass panes
Single discs / panes
We can coat the different types of glass / metals / plastics up to a size of 1.08 m x 0.8 m in one piece.
Laminated glass
Particularly with colour effect glass, larger panes are sometimes desired. In laminated glass, the size can be freely selected, also as laminated safety glass. The maximum dimensions are 5.80 m x 2.55 m. Different colours can also be combined in one disc by butt joining. It is also possible to combine them with semi-transparent mirrors and/or transparent glass.
We can match your specifications for perfect integration, with or without a frame, and completely assembled according to your requirements.
Processing guidelines
The coated glass is highly resistant and durable. It can be further processed using virtually any common glass processing method. Observe the following guidelines when doing so:
Since the applied coating or coating package is very small (0.05 µm to 1 µm), mechanical damage can occur to the coating during processing. Processing must therefore be carried out under extremely sanitary conditions. Exposure to abrasive substances such as grinding dust, glass fragments or metal particles on the coated surfaces should always be avoided.
Scribing, breaking and grinding
Scratching, breaking:
Coated glass can get scratched and break just like normal, uncoated glass. The cutting and breakout table must be clean; the glass plates must only be moved across the table using an air cushion to prevent scratches. Dust that has settled on glass plates after a storage period should first be removed by cleaning. Never use a hand broom or dry cloth.
Grinding:
Coated glass plates can be ground individually or in a block. When grinding individual glass plates, make sure that the tool-holder of the grinder does not scratch the surface. When grinding the glass in a block, paper inserts or putty can be used. Use only acid-free paper. Alcohol-based solvents can be used to loosen the putty. Do not use acids or lye that could corrode the surface of the glass or affect the adhesion of the coating.
Thermal and chemical hardening
Thermal hardening of the most types of coated glass and processing into toughened glass are generally not possible, since the required high temperature tends to cause clouding or cracks. In specific cases, certain filter types – as some antireflective filters – can be thermally toughened, taking into account the respective coating after thorough testing and precisely defining the toughening parameters.
Chemical hardening of coated glass is only possible with a few coatings. Please ask us about this.
Anti-reflective glass
We also offer our AR filters / antireflection coatings as thermally temperable coatings:
For applications where chemically tempered glass is required, we offer AR coating on alumo-silicate glass:
Processing into laminated safety glass

Butt joint with triple laminated glass
Processing into laminated safety glass can be done without any constraints. There is no known interaction between the coating and common bonding materials (PVB or resins).
Sizes above the maximum dimension of our single panes of 1.08 m x 0.8 m are manufactured in butt joints.
By means of butt joints, different shapes or colours can be combined within one pane. Combinations with partially transparent mirrors and/or clear glass are also possible without any problems.
See a reference example here:
Curved glass
Bending coated glass is a great challenge. Material and coating thickness must be precisely matched.
You can see a reference example for large-format curved panes here:
Coating of glass bodies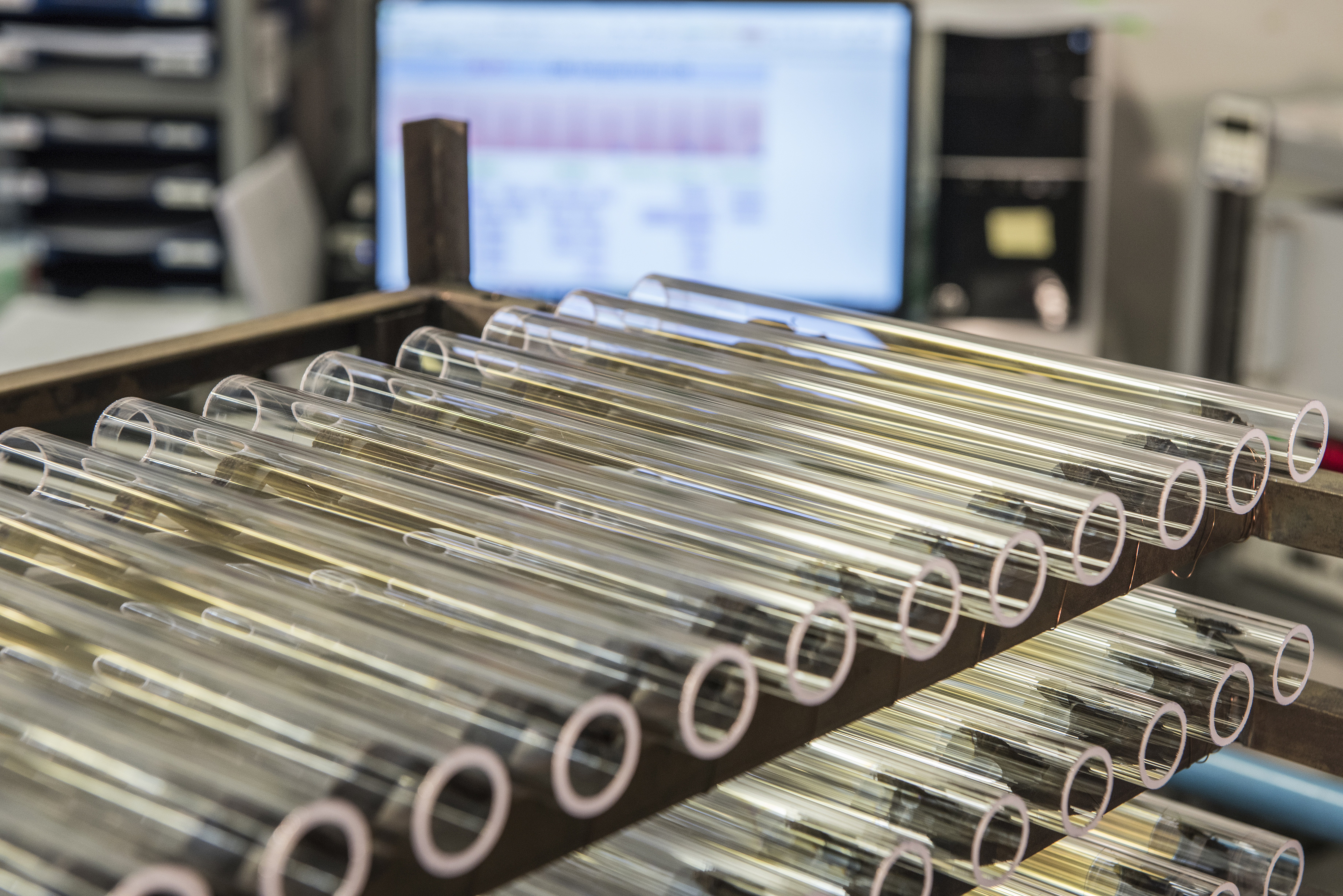 Coating of glass tubes at Glas-Plus
We can coat a wide variety of bodies and objects made of glass. In addition, we can also apply various functional coatings to metals or plastics.
Some of these coatings are applied by our partner company Glas-Plus GmbH in Mainz.
Spectral curves Cold light mirrors