Jesse Magee - "Trap I - V"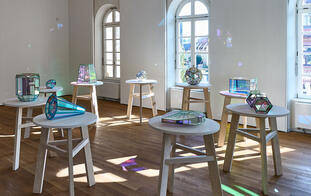 Trap I - V, Jesse Magee, 2021, Ingelheim Art Forum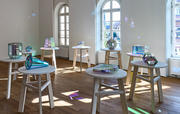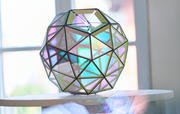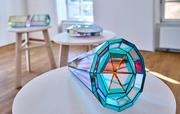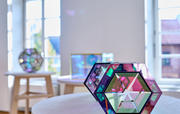 Captivating installation using colour effect glass:
"Trap I - V" – Multiform artworks made of colour effect glass by Jesse Magee
A trap can catch you, but can also hold you trapped. The title of the glass art series "Trap I - V" by the US-born artist Jesse Magee is a reference to this interplay.
In this series, he uses the visual impact of colour effect glass to create a perfect interplay with the geometric shapes of glass surfaces, such as a hand reaching inside the artwork which is "trapped" in this space, while the multiform glass artworks simultaneously "trap" the light to refract it into a multitude of colours.
The five artworks are each displayed individually on his website: Traps I - V
Jesse Magee's works are currently on display in the exhibition "Material in Focus - Glass in Contemporary Art" (autumn 2021) in the Ingelheim Art Forum (www.museum-ingelheim.de).
Project details
| | |
| --- | --- |
| Project: | "Trap I - V" |
| Place: | Ingelheim Art Forum (Germany) |
| Artist: | Jesse Magee |
| Year: | 2021 |
| Photographer: | Articus & Röttgen Fotografie |
| Copyright: | Jesse Magee |
Colour effect glass used in this project
Would you like to see all the colour effect glass references?