Colour effect glass for light art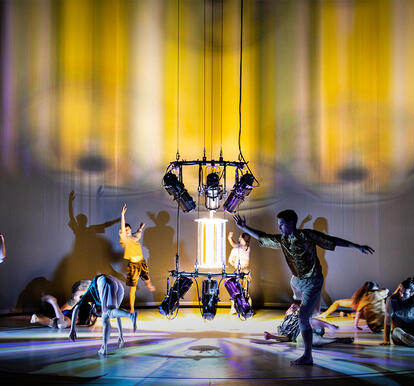 Dance Theatre Heidelberg: "Dimensions"
Enchanting light
Colour effect glass, which generates colour from pure light, opens up the possibility for both light art and stage design to create unique lighting effects and surprising colour-light plays.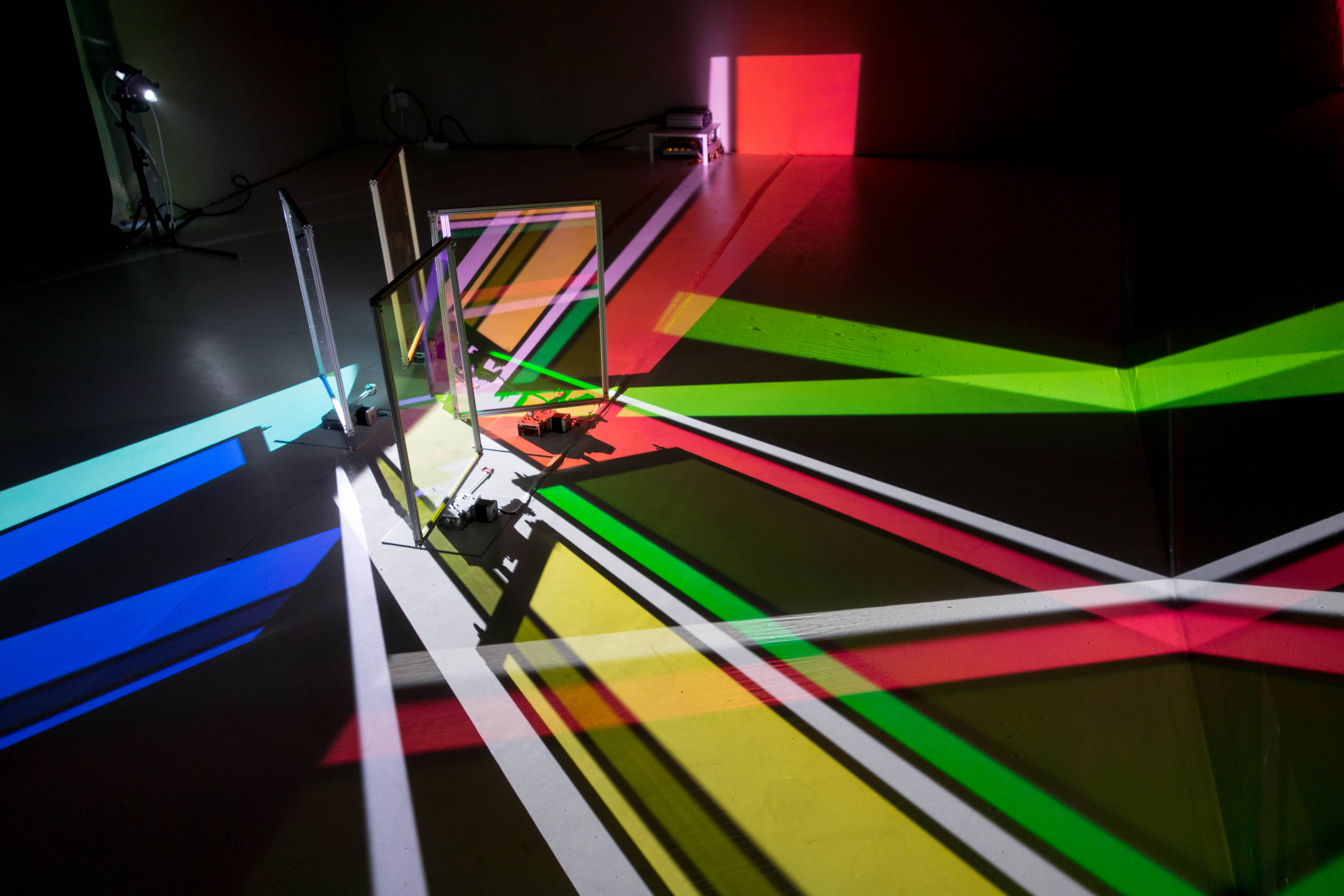 Yoko Seyama: "Saiyah 2"
Application and processing
Colour effect glass panes are available in thicknesses from 1 to 6 mm and in dimensions up to 5.80 x 2.55 m in butt joints, or max. 1.08 x 0.8 m as a single pane. The coating can be applied to float glass or borosilicate glass. For exterior use, we manufacture the panes as triple-laminated safety glass (LSG); for interior use also as double-laminated LSG. Colour effect coatings on curved panes or glass bodies (tubes) are possible as well. Coated glass can also be embedded as an inlay in laminated glass. Further information on materials and processing:
Success story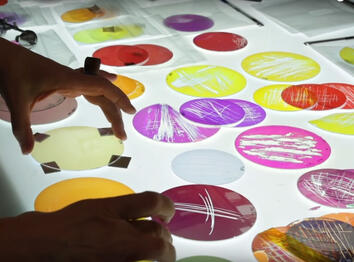 © Victoria Coeln
The Viennese artist Victoria Coeln uses dichroic filters from various manufacturers, including Prinz Optics, in a way that is very unusual for us: While we do everything to ensure the integrity of the nano-coating, the artist deliberately destroys it partially for her "Chromotope".
More about her work here:
Colour effect filters for lighting design, stage lighting and illumination
Coloured light, just the way you want it! For all requirements of lighting design, light art and stage design, for the illumination of façades, interiors, exhibition stands and photo settings.
Our absorption-free dichroic lighting filters produce the desired coloured light and can change the colour temperature of light sources at will. This makes it easy to illuminate stages and photo, film and television studios and enable colour filtering with recording equipment. The efficiency of these colour filters is based on reflection and thus on the separation of the radiation frequencies of light that are not to be transmitted. Light transmission and reflection, for example, create complementary light shadows that can be used for spectacular effects.
Prinz Optics provides you with more than 20 standard colours. A lighting consultation in the run-up to your lighting installation is just one part of our service.
We also offer a wide range of finely graded glass colour filters in all basic colours as well as other colour correcting filters (CTO and CTB / diverse colour balance filters +/- green). Our glass colour filters for façade lighting and show, stage and interior illumination boast a high degree of stability and temperature resistance. Unlike foils, colour effect glass cannot fade.