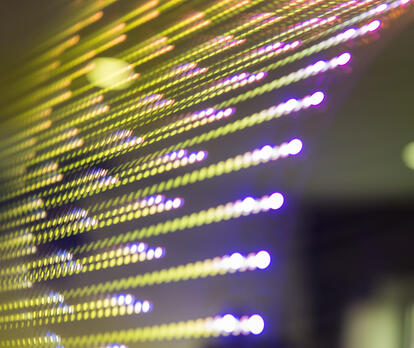 © Petra Goldmann: "Wandobjekt-LED", Kunstwerk mit dichroitischem Glas und LEDs
The protection of your personal data is very important to us.
We collect personal data on this website only in line with the General Data Protection Regulation (GDPR). In this privacy policy we want to inform you how and why we handle personal data.
Server logfiles
Every time you access our website, we collect and store data automatically submitted by your browser in our server logs. These are:
Browser type / version
Operating system
Referrer URL (last visited site)
Host name of the accessing computer (IP address - anonymized)
Date and time the website was called up
The names of the subpages called up by you
We are not able to assign this server data to any specific person. This data will not be merged with other data sources. The data is deleted after 4 weeks.
Contact forms or email
Personal data is only stored if you enter it yourself:
via email
using our contact form / inquiry form
We only store the data for the purpose of contacting you. Your data will not be passed on to any third party without your consent.
You can revoke your consent to the storage and the processing of your data at any time. Please use the contact data below under the item "Responsible entity".
Secure data transmission
All data are transferred via SSl encryption
Please be aware that any data transfer via the internet may not be secure (e.g. communication via email). It is not possible to ensure absolute data protection against attacks by third parties.
Cookies
Cookies are small files that enable the storage of specific information related to the visitor's device (e.g. computer, tablet, smartphone). On the one hand, these cookies make websites user-friendlier and, on the other, they collect statistical data on the website's use and analyses them to improve the range of offer, which enables us to optimise these pages to suit your needs.
The evaluation of statistical data is carried out anonymously. The user can choose whether or not to use cookies. Most browsers provide the option of limiting or completely preventing the storage of cookies. We do however point out that using our page and especially usage convenience may be restricted without cookies.
Google Analytics
This website uses Google Analytics, a web analytics service provided by Google, Inc. ("Google"). Google Analytics uses "cookies", which are text files placed on your computer, to help the website analyze how users use the site. The information generated by the cookie about your use of the website will be transmitted to and stored by Google on servers in the United States. Because IP-anonymisation is activated on this website, your IP address will be truncated within the area of Member States of the European Union or other parties to the Agreement on the European Economic Area.
Only in exceptional cases the whole IP address will be first transfered to a Google server in the USA and truncated there. The IP-anonymisation is active on this website. Google will use this information on behalf of the operator of this website for the purpose of evaluating your use of the website, compiling reports on website activity for website operators and providing them other services relating to website activity and internet usage. The IP-address that your Browser conveys within the scope of Google Analytics will not be associated with any other data held by Google. You may refuse the use of cookies by selecting the appropriate settings on your browser, however please note that if you do this you may not be able to use the full functionality of this website.
You can also opt-out from being tracked by Google Analytics with effect for the future by downloading and installing Google Analytics Opt-out Browser Addon for your current web browser.
Right to information / withdrawal of consent / deletion
You have the right to request information on the kind and volume of data stored or withdraw your consent at any time. You have the right to have inaccurate data corrected as well as to have your personal data deleted, should this claim not contradict any legal obligations to retain data.
Rights to data portability: You can have your stored data sent to you or a third party in a standard, machine-readable format.
Please find the contact data below:
Responsible entity
PRINZ OPTICS GmbH
Simmerner Strasse 7
D-55442 Stromberg
Fon   + 49 67 24 - 60 19 30
Fax   + 49 67 24 - 60 19 311
email   info@prinzoptics.de
Right of appeal to the relevant supervisory authority
You have the right of appeal in case you think a law violation of data protection had occurred. The relevant supervisory authority for data protection issues is "Der Landesbeauftragte für den Datenschutz und die Informationsfreiheit Rheinland-Pfalz": www.datenschutz.rlp.de