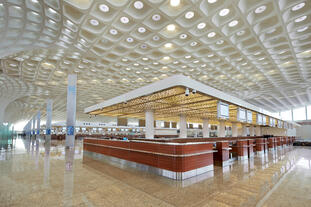 Airport Mumbai with dichroic colour effect filters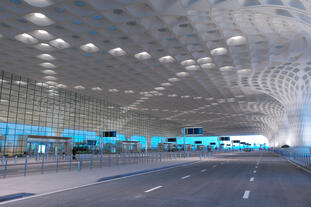 Dichroic glass accentuates the ceiling design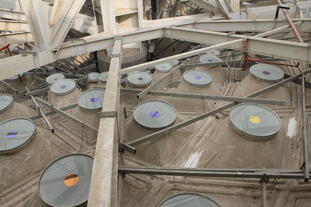 Interior ceiling with dichroic glass panes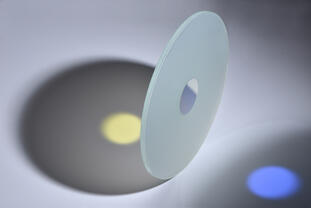 Dichroic glass inlay Mumbai airport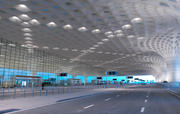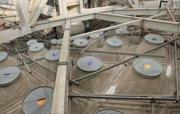 Dichroic glass at Terminal 2: 
Playing with colour and light for the new airport in Mumbai
6,500 round panes of dichroic glass have been set into the daylight roof cassettes and the pillars, thus projecting a fascinating interplay of colour and light onto the walls and the flooring at the Mumbai airport.
When light falls through more than 6,500 round inlay discs integrated into the columns and ceiling elements, this dichroic filter glass conjures up coloured light shadows on the ground. Six different luminous colour effects represent the peacock: India's national bird as well as the logo of "Chatrapati Shivaji International Airport".
With a new technology developed by PRINZ OPTICS, colour effect glass could be perfectly integrated as an inlay into laminated glass. But moreover, applying the panes into the ceiling construction was a challenge.
The dichroic panes of glass had to be fitted into the "normal" glass panes with extreme accuracy and without any edges. Concerning transparency and reflection, the different colour effects of the filter glass can be clearly seen in the example.
Project details
| | |
| --- | --- |
| Project: | Terminal 2 - Mumbai airport |
| Place: | Mumbai (India) |
| Architect: | Skidmore, Owings & Merrill, 2014 |
| Photographer: | Robert Polidori, Sandeep Savant Photography |
| Copyright: | GVK- Mumbai International Airport Pvt. Ltd. |
Colour effect glass used in this project
Would you like to see all the colour effect glass references?