Cruise Liner "Liberty of the Seas"
"Liberty of the Seas" - striking "gold" balconies made of dichroic glass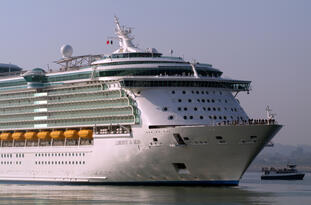 The balconies with iridescent colour effect from cyan to yellow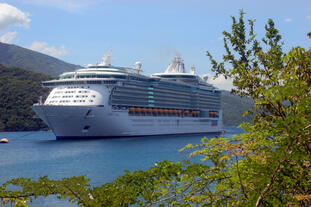 From a different angle, the balconies appear azure blue (cyan).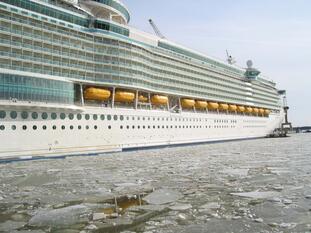 The dichroic glass balustrades stand out even from a distance.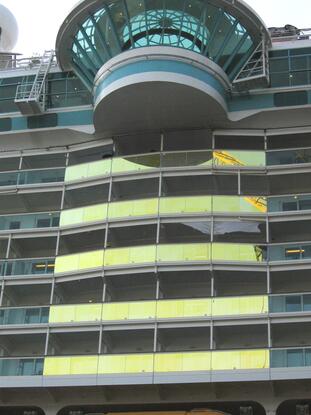 The colour effects change to the reflective colour yellow-gold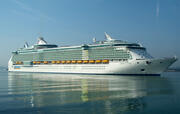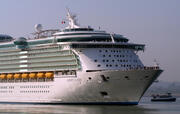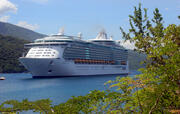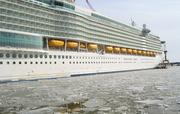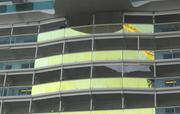 Cruise Liner "Liberty of the Seas":
Cabin Deck Balconies with Balustrades of Dichroic Glass
One of the highlights on the ship's facade are the balustrades below the spa area which alternate in colour between yellow-gold and azure-blue, depending on the viewing angle and the light. The shimmering colour effects are created by the dichroic coating on the inside of the three-layer laminated glass.
The "LIBERTY OF THE SEAS" is the second of three sister ships to be fitted with dichroic colour effect glass by Prinz Optics. The first ship, the "FREEDOM OF THE SEAS", was the world's largest cruise ship between 2006 and 2009; the third ship, the "INDEPENDENCE OF THE SEA" followed on in 2008.
Project details
| | |
| --- | --- |
| Project: | Cruising ship "Liberty of the Seas" |
| Place: | Cabin deck balconies |
| Construction: | Jukowa Oy, Finnland, 2007 |
| Photographer: | Peter Titmuss / Alamy Stock Photo |
| Copyright: | Royal Caribbean Cruises Ltd. |
Colour effect glass used in this project
Would you like to see all the colour effect glass references?