Spectra Designer Tables with Dichroic Glass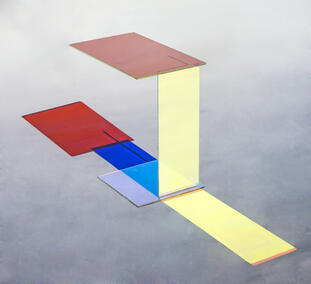 Dicroic play of colors within ABCD Table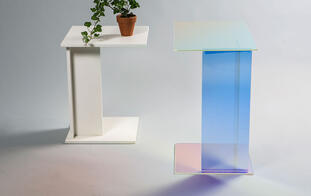 Interplay of tables: Dichroic effects and stone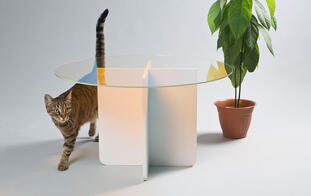 Spectra O Table: Design glass / white quartz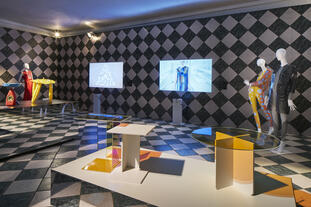 Spectra tables at the Milan Design Week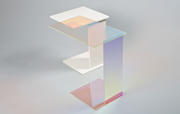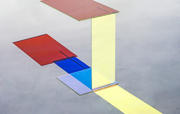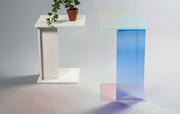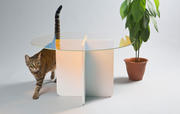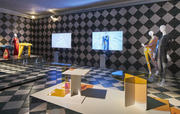 Dichroic glass and quartz stone combine into a unique designer object: 
Spectra Designer Tables by Kukka Design Studios
This designer table was designed by Kukka Design Studio and created in cooperation with Prinz Optics and Caesarstone.  One half of the table is made of dichroic glass by Prinz Optics, the other half of reclaimed quartz stone by Caesarstone.
Varying in accordance with the angle of vision, coloured shadows of light appear on the ABCD table. The glass works as a dichroic filter, allowing part of the light to pass through while reflecting the other part.  The colour of the reflection complements the colour of this design glass's transmitted spectral range.
Reflection and refraction, absorption and repulsion - the designers at Kukka found inspiration in the properties of both the special glass and stone.  In these designer pieces, both materials come into dialogue.
Rona Meyuchas-Koblenz, the founder of Kukka Studio, says about it: "I am very much interested in using simple geometry and basic materials to create something unique and timeless, and expressing the significant conditions affected by light and time."
The "O" designer table is the second result from the combination of dichroic glass and stone. A series of mineral nano-coatings, which are applied using the sol-gel method, give the glass table top its fascinating characteristics.
These ultra-thin coatings do not age and are resistant to normal mechanical wear.
Both designer tables belong to the "Spectra" project by Kukka in which dichroic glass plays an important role with its many diverse colour effects.  The furniture was displayed at the Milan Design Week to the motto of "What's the Matter? Experience design for a Phygital World".
The unusual connection of quartz stone and dichroic glass in the stringent design received plenty of international attention.  CNN Style described the table as one of the most desirable design objects: "Salone del Mobile 2016: The 15 most desirable objects in the world right now". 
Project details
| | |
| --- | --- |
| Project: | Designer table "Spectra ABCD" |
| Designer: | Kukka Design Studios, London / Tel Aviv |
| Year: | 2016 |
| Photographer: | Daniel Schechter |
| Copyright: | kukka design Ltd. |
Colour effect glass used in this project
Would you like to see all the colour effect glass references?