Hauke Odendahl - "Fragments"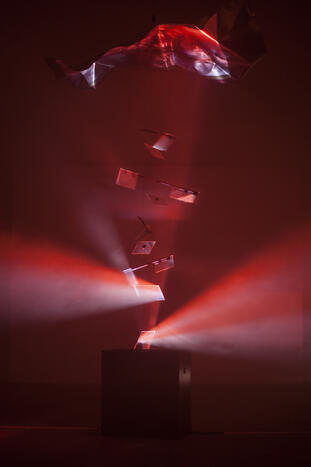 Hauke Odendahl
"Fragments" beam splitter mobile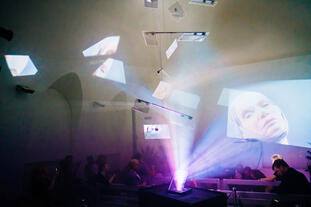 Robert Schlesinger
Installation "Fragments" with Beam Splitters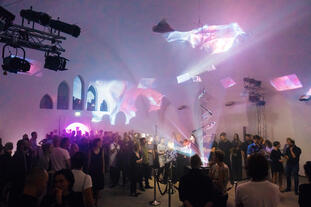 Robert Schlesinger
"X-Fragments": Art Video projected through beam splitters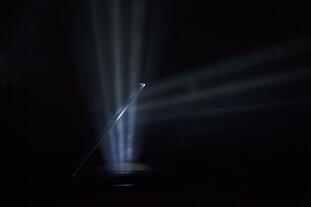 Hauke Odendahl
Art projection with beam splitters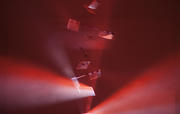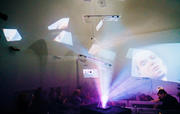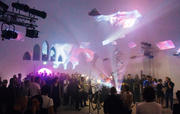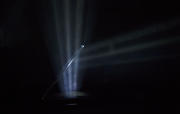 Beam Splitters as Semi-reflective mirrors (dichroic beam combiners) for an Art Project:
"Fragments", an installation by the artist / designer Hauke Odendahl
For the "Black Mountain X Fragments" exhibition with video projections, Hauke Odendahl created a turning mobile made of dichroic beam combiners / beam splitters in which the projections are multiplicatively refracted and reflected. More information here:  iGNANT art magazine or here: AUDI magazine
BLACK MOUNTAIN is the name of an international reinterpretation of Wagner's Parsifal. The result is an art film in the style of a music video, presented for the first time in Berlin on 3 July 2016. The multiplication caused by the beam splitter projection was particularly striking here during the first run-through.
Although the beam splitter mirror reflects only half of the light each time, thus continuing to always halve the amount of light for the other splitter mirrors, they create the impression of a number of equally strong images.  With this installation, Hauke Odendahl has managed to bring another level into this art project. See the video if the installation here (Vimeo).
Beam splitters, otherwise known as splitter mirrors or half mirrors, reflect / mirror a defined part of the light (usually 50%), while allowing the other part of the light to pass through. Common areas of application include optical instruments, but also e.g. teleprompters. The optical filter properties are the result of an ultra-thin coating.
Project details
| | |
| --- | --- |
| Projekt: | "Fragments" |
| Artist: | Hauke Odendahl |
| Year: | 2016 |
| Photographer: | Hauke Odendahl, Robert Schlesinger   |
| Copyright: | Hauke Odendahl |
Optical filters used in this project
Would you like to see all the references for our optical filters?